Linkin Park-Leave Out All The Rest
leave out all the rest
written and performed by linkin park
cd:
minutes to midnight
[2007]
i dreamed i was missing... you were so scared
but no one would listen, 'cuz no one else cared
after my dreaming, i woke with this fear
what am i leaving when i'm done here?
so if you're asking me, i want you to know...
when my time comes, forget the wrong that i've done
help me leave behind some reasons to be missed
don't resent me
and when you're feeling empty, keep me in your memory
leave out all the rest
leave out all the rest
don't be afraid
i've taken my beating, i've shared what i've made
i'm strong on the surface... not all the way through
i've never been perfect, but neither have you
so if you're asking me, i want you to know...
when my time comes, forget the wrong that i've done
help me leave behind some reasons to be missed
don't resent me
and when you're feeling empty, keep me in your memory
leave out all the rest
leave out all the rest
forgetting all the hurt inside you've learned to hide so well
pretending someone else can come and save me from myself
i can't be who you are
when my time comes, forget the wrong that i've done
help me leave behind some reasons to be missed
don't resent me
and when you're feeling empty, keep me in your memory
leave out all the rest
leave out all the rest
forgetting all the hurt inside you've learned to hide so well
pretending someone else can come and save me from myself
i can't be who you are...
i can't be who you are...
YAY!!!! My favorite song off of Linkin Park's new CD is their new single!!! Here's the video for the song. It has so many references to the movie "Sunshine", and the video has nothing to do at all with the lyrics of the song, but that's typical of all Linkin Park's videos. I love all the cinematography and the cool special effects.
Current Location:

my room

Current Mood:

cheerful

Current Music:

Linkin Park -- Leave Out All The Rest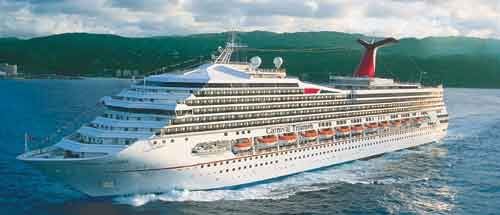 It didn't work out. But it's all good, because....
(
this is where I will be going from May 11th-May 15th instead!!! YAY!!!!
Collapse
)
I am so excited, even more excited than the cruise idea!!!! I was so excited, I started crying! And I'm still not allowing myself to be as excited as I should be because I don't want to jinx anything. It will be my first time going back in over 10 years! And my first real vacation in over 7 years! Going to Puerto Rico does not count as a vacation to me anymore. This does!!! And I have Jeremy to thank for it! =)
There was a good possibility of me going on one of these on May 10th:
Current Location:

my room

Current Mood:

bouncy

Current Music:

Evanescence -- The Only One


I turn 28 tomorrow! God, I am old....
Just wanted to pop in and say hi since it's the only time I can. I have no internet access anymore as a result of... well, don't want to go into that. And I may have to move yet again. And I have no more minutes left on my cell phone until thursday, which of course means that if anyone calls me tomorrow on my birthday, I won't have any option but to ignore them. It's all good though. I am alive and well, still continuing all the birthday I have had this weekend, and trying to get myself back on track given all the obstacles that have been thrust upon myself in the last couple of weeks. But I mainly wanted to let everyone know I am fine.
HERE!!!
to find out the best birthday gift I will get this year. It doesn't come out until two weeks after my birthday, but I don't care. It will definitely be worth the wait!
MY CHESTER IS BACK!!! Along with the rest of my hotties. It almost feels like an orgasm. =)
Click
I'm back in Chicago after what felt like the longest flight of my life. I'm tired as hell, so I will just go to bed. But I promise an update is coming. LOTS of things happened while I was in Puerto Rico, and all I will say now is that this year will be the year I finally make things happen for myself. I WILL become the Fabian I have always wanted to be. But anyway, too tired here to talk about this right now. Going to crash now. Night y'all.


And hopefully I won't come back with a crazy "coming-out-to-my-entire-family-including-the-father-I-have-not-spoken-to-in-over-four-years" story.

Anyway... I plan on calling everyone during the time I am back home so y'all better answer your phones. Otherwise, I wish everyone happy and safe holidays and a happy new year 2007.

And may Santa bring you all the toys and goodies you deserve for being not so naughty this year. =)
My bags are packed for tomorrow. I'm leaving to go to Puerto Rico for a whole month. And since I won't have internet access back home, this unfortunately means I won't be able to post/reply to anything. As much as I love my family and spending time with them, I don't know what the hell I am going to do with myself with no internet access FOR A WHOLE MONTH!!! Also truth be told I don't even want to be gone for a whole month, considering that I have to start looking for a job up here in Chicago. But..... I know a lot of places won't be doing much of any hiring during the Holidays anyway, and mom already bought the round trip ticket, so I really don't have another choice. And it will be good for me to be gone for that long anyway, I need time to relax and clear my mind off of a lot of things. Plus I get to see my family and my friends back home. I have not seen my friends back home in almost 3 years!!!! Last time I went home (about a year and a half ago) I was there for only 4 days, so of course I couldn't see anyone. Anyway... this trip should be good. It WILL be good.
Comment and I'll give you a letter; then you have to list 10 things you love that begin with that letter. Post your list in your journal, and give out some letters of your own; leave a comment for me here so I can read your list!
So Danielle gave me the letter *S* and here's my list:
1. Sunsets
2. Sandwiches
3. SEX!!! (sorry, I had to)
4. Sheryl Crow
5. Summer
6. Singing
7. Smiles
8. San Francisco
9. Sweets
10. Christopher Meloni -- ok, so his name doesn't start with an *S*, but there is an *S* in his name, AND thinking of him makes me think of
#3
above, hehehehe.


First things first, IT IS FREAKING COLD UP HERE! Now some of you are probably just shaking your heads either wondering why I am telling you the obvious or fighting your urge of blurting out a loud I-told-you-so. But hey it's not like I didn't know anyway, so whatever.

I unpacked pretty much everything that I conceive I will need at least for the next 3-4 months because I know that I will find a wonderful job soon, and along with that, a place of my own. For now, the rest will stay in boxes until I move again or until I need it, whichever comes first.

My computer is set up as well, though I was having a hard time the first night here trying to get my wireless card to pick up my mom's internet connection. But anyway, now I'm connected and able to talk to everyone, which God knows I will do now that I have all the time in the world for myself. I could start looking for jobs online, but that won't do me any good since I am leaving Thursday to go to Puerto Rico for a whole month with no internet access. And I could go out with my friends up here in Chi-town, except for, um, oh yeah that's right, I don't have any. =/

So honestly, I haven't done much of anything since I got here. All I have done has been going to the mall with mom everyday. She's the one doing all the shopping of course. I'm just there for moral support and to depress myself while I look at all the things I can't afford because I don't have a job yet.

Wow, those words feel so weird to say... "I don't have a job yet" It's been a while since the last time I said those words. Feels kinda good, I'm not going to lie. But I also feel like a slacker. It's all my doing though, I was the one who wanted to move to Chicago with no job.

Which brings me to Bloomington... it was actually harder to leave that I thought it would be. I think the hardest part was saying "goodbye" to Slagle (Leah S.) She helped me load my car up that morning. We started to say goodbye a little after... and the next thing I know she's crying, and the next thing I know I am crying, and then we hug and bawl each other's eyes out like we were being tortured or something. It was kinda funny actually looking back, but I never thought she would start crying that way when I left. I love Slagle. If anything, I know we will see each other in the future. She has to come to Chicago next year before she starts her job in Minneapolis anyway, so I know I will get to hang out again.

Saying goodbye to Dustin was hard as well. We hung out like two nights before I left town, and the entire night had a very bittersweet feeling. We enjoyed our night together and we smiled and laughed and joked around remembering a lot of things, which was something that had not really happened since we broke up. But going through all the memories was hard too because it just reinforced the fact that we were not together anymore, so then we started dissecting the entire relationship as a way to try to find closure. And I think we did find the closure we needed. If anything, I know we will stay in touch, and I hope we can remain friends after all this chaos that ensued between us. He is a great guy, and I know he will find someone in the future who will be able to offer him everything I was not able to. I want him to be happy.

Anyway, I am going to play my Game Cube for a bit. Paper Mario and the Thousand-Year Door is calling me. That game is very fun indeed.
So this is my first official update as a Chicago/Westmont resident. =)
Current Location:

my room

Current Music:

Panic! At The Disco -- Lying Is The Most Fun A Girl Can Have


It seems like it was yesterday, but it's been a little over two years. And man, a lot has happened in those two years. Many ups and downs have come and gone. The job I moved across the country for allowed me to afford many things I had never owned before and for the first time in my life, I was completely independent. But things took a turn for the worse, and after just one year I reached a point where I had to choose between sound financial stability and my own physical and emotional well-being. I chose the latter, and along with that decision, I had to say goodbye to the job I initially moved up here for. But I still wanted to give this town a chance to give me something, anything I could build myself again from. And so I went back to waiting tables for a living. Doing so was a very humbling experience for me after experiencing a high I had never reached before. But doing so also allowed me to meet some of the most wonderful people I have ever met in my life. People that, even though I can count them with one hand, had given me a chance of feeling like I belonged in this town. People that saw me through highs and lows and were there for me every step of the way and accepted me for who I am, with all my virtues and flaws. No need to name them, as I have named them over and over again throughout my entries and they know who they are.

Even though those people will always be in my heart, one of them will always hold a very special place in my life. The one person I got the closest to and actually allowed me in his life in the way I had not experienced in a long time. When I look back in time I will remember many things out of Bloomington, but my relationship with Dustin will forever be one of the highlights. He saw me through many highs and lows, always gave me his love and support, and allowed me to share some of that love back. It was that same love that made us realize that we were in two very different stages in life and that we were better off by ourselves. But I will always love him and hold him close to me in spite of what the future holds for us.

But anyway, here I sit 3 days away from my next major move in life. The level of uncertainty in my life right now is skyrocketing to a level I have not experienced before. But I can't shut myself out or run to a corner and crawl up in fetal position as a result. I haven't shut myself out before, why should I start now? As uncertain as my future looks like at the moment, I am still looking up to it with anticipation, and a somewhat skeptic excitement.

Wow, this entry turned out to be so freaking introspective in nature.
So it seems like my final days here in Bloomington have started. Only 3 more days until I put the rest of my belongings in my car and move somewhere else... again. LOL. Funny, it only seems like yesterday that I had packed up everything I could out of my belongings in the trunk and the back seat of a rental car and moved 800 miles away from Louisiana to Bloomington, Indiana. I did not know what to expect at all. I didn't know this town at all except for what I was told about it by my friend Leah (Hoopty), and asides from her, I did not know a single soul up here. I didn't have a place to live, and although I had a rental car to move around, I had just lost my own car so I knew that, once I returned that rental car, I would not have a means of transportation. But nonetheless, I was excited. A new chapter was starting in my life. I was going to start my first ever full-time salaried job with benefits. And for the first time in my life, I was going to move to a new place completely on my own, which honestly, I was excited about because it was going to be a test of my true independence. For the first time I was feeling like a true adult. Kinda scary, but exciting as well.